NEXUS MK VII (HD)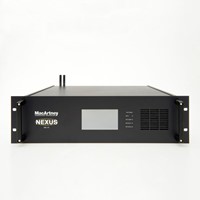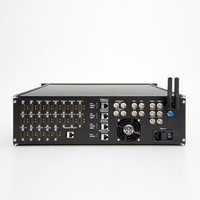 The MacArtney NEXUS MK VII is an advanced and versatile HD video, standard video, Ethernet, serial and multibeam sonar multiplexer based on Focal 907 telemetric technology. Providing a highly efficent link between surface and seabed, the NEXUS MK VII carries all signals over one single mode optical fibre via CWDM (coarse wavelength division multiplexing).

The NEXUS MK VII is highly configurable and allows for an easy upgrade/modification path when operational or applicational requirements change. Multiplexer options can be installed between jobs or even at sea without the need for an electronics workshop.
Power switching is software controlled via PC software or using a tablet which is online via LAN or WiFi. Sensor power status, telemetry link, leak alarm etc. is also continuously monitored by the software. Advanced features include programmable fuses and software enabled interface selection. The protocol is open and can be integrated into customer software for monitoring convenience. A touch screen display on the topside front panel allows for easy monitoring of selected parameters during set-up and operation.
As standard, the subsea unit housing is manufactured from hard anodised aluminium. Connectivity interfaces include SubConn® anodised aluminium connectors, SubConn® coax (HD video) connectors and a MacArtney OptoLink fibre optic connector.

Features and benefits 
Interfaces all standard survey sensors
Interface for SeaBat 71xx, R2Sonic and Kongsberg multibeam sonar system (dual head)
Full HD video interface
Software controlled power switching for sensors (PC or tablet based)
Highly versatile (several connectivity interfaces)
Readily configurable for new applications
On-site upgrade and modification
Based on Focal 907 technology
Operates on one single mode optical fibre
3,000 MSW depth rating as standard
Applications
ROV/ROTV multiplexer for HD video and multibeam sonar survey sensor set-up
Cable trencher systems
Towed camera and sensor systems
Seabed monitoring applications including landers and observatory systems
Subsea instrumentation platform systems
Options
4 x HD-SDI (full broadcast quality)
Video interface (6 x PAL/NTSC, 8/10-bit)
Dual (P)ECL interface for SeaBat 81xx or EM 3002 multibeam sonar head
Dedicated INS interface
Titanium or high tensile duplex steel housing for the subsea unit