GreenLink Inline Splice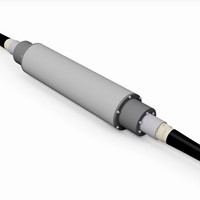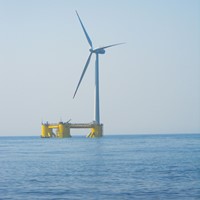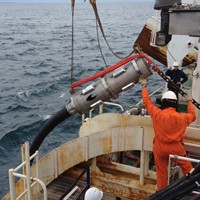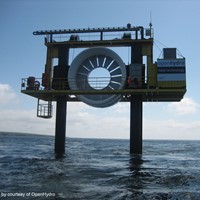 The GreenLink inline splice has been designed to facilitate offshore termination jobs where a connector solution is not required. The inline splice kit accommodates a need for a rugged, simple and reliable splice kit applicable offshore for cable repair and jointing.
The splice kit forms part of the GreenLink connectivity solutions used to connect dynamic cables from offshore renewable wind, tidal and wave energy converters to static export cables or for medium-voltage cable extensions. Moreover, they can be used as part of the system to interconnect subsea units or to substitute a connector solution.
The cables being high-tension electricity cables, the jointing is mechanical and can be carried out on site in case of an emergency repair, in the event of a cable damage or where a cable extension is required.
It also provides mechanical stress transfer between the cables and offers extra protection with bend stiffeners or bend limiters (optional). Moreover, GreenLink inline splices come with external O-ring test ports on their housing. These can be used for testing the O-ring seal on the fully assembled termination prior to system deployment.
GreenLink inline splice kits are adapted to suit the requirement of each project and combine the benefits of custom engineering, trusted technology and industry standard electrical components. Finally, GreenLink inline splices can also be used in semi-flooded or dry applications, if required.
Highlighted specifications
Standard working voltage: up to 66 kV
Conductor range: 35-630 mm2
Working depth: 100 m
(other working depths available upon request)
Housing material: Stainless steel AISI 316L
(other materials available upon request)
Design life: 25 years (with 5 year maintenance periods)
O-ring test ports on termination housing
Supplied with bend stiffeners as standard
Applications
Connecting dynamic cables to export cables or as
part of a cable extension
Connecting cables from wind, tidal and wave energy
converter units to land cables or interconnecting cables
Interconnecting marine renewable energy converter
units and applications
Options
Connection of auxiliary conductors
Fibre optic connectivity
The termination can be dry or nitrogen filled
Field installation and offshore support
Purpose designed installation skid
Bend restrictors
GreenLink inline terminations