The "Underwater Technology Stories" campaign
In our stories universe, we want to tell how our customers solve the challenges of the underwater industry and how we help. 30 years of underwater projects has given us a treasure trove of stories that illustrate our dedication to the underwater industry and commitment to those who take up the challenge of working beneath the waves in a countless number of ways.
Our customers' projects vary enormously, as has our role. Sometimes our part has been a small one in a much larger venture; sometimes it has been large, supplying most if not the entire solution. At times is has been a role that no other underwater technology supplier can fill. We embrace the challenges underwater and strive to help our customers to provide solutions for an industry ranging from oil and gas, diving and defence to ocean science, fishing and renewable energy. The underwater stories campaign highlights just some of the many interesting projects that MacArtney is proud to have witnessed and been part of over the last 3 decades.
MacArtney - dedicated to the underwater industry
Scope
The "underwater technology stories" campaign will run from March through December 2011 as printed advertisements in industry magazines and present additional information and richer content here on the MacArtney website. More stories will be added throughout the year, resulting in a small booklet of underwater technology stories when the campaign is finished.
Design
The stories are designed to be both informative and entertaining, with the printed advertisements serving as an introduction and the online version to contain the full story. As such it was important to come up with a advertisement design that highlighted on the story instead of the company or product, and a design that would be recognizable across the different stories.
Several design concepts were evaluated: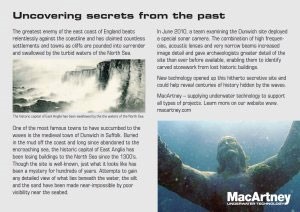 Fact-box style layout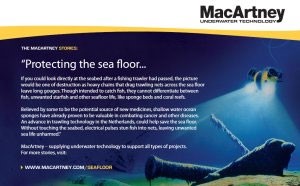 Dramatic drawn illustration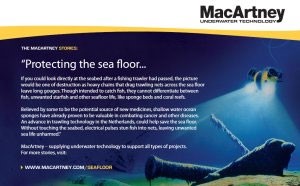 3D computer rendering
Ultimately the computer rendered underwater universe with its wireframe overlay was chosen. This design reflects both natural underwater scene (the 3D rendering) in which we operate and the application of technology upon it (the wireframe) which we represent.